A song i record for an African friend from Nigeria 🇳🇬
BJ Sam from Nigeria in Africa asked me to play the Bass on this song.
So i asked Fabio Buitvidas on Drums and George Keczan Piano to Join this recording together with all nice artist round the world 🌍
" I Will be Loving you to the end "
The whole video !😃
BJ Sam with wonderful musicians from different parts of the world:
BJ Sam 🇳🇬🌍Nigeria
Magnus Rosén wSweden
Marissa Phifer 🇺🇸USA
Sylvie Burger France
DJ Hayley Man 🇭🇰Hong Kong
Azaya, Djelykaba Bintou uinGuinea
Cindy Pritchard 🇦🇺 Australia
Lida Lyubimova 🇳🇱 Russia
Zeng Wai Lam hChina
Susanne Hehenberger 🇦🇹Austria
Diel Rodrigues, Catarina Rosa raBrazil
Marcello Ghio, Roberta Petrini talItaly
Paul Walschburger, Glasmusik 🇩🇪 Germany
Nadège Noël 🇭🇹Haiti
Eddie Simon ZealandNew Zealand
Safi Diabaté 🇲🇱 Mali
Fabio Buitvidas 🇧🇷Brazil
Anny Guitar 🇳🇬Nigeria
George Keczan 🇸🇪Sweden
Wish you a nice weekend!!!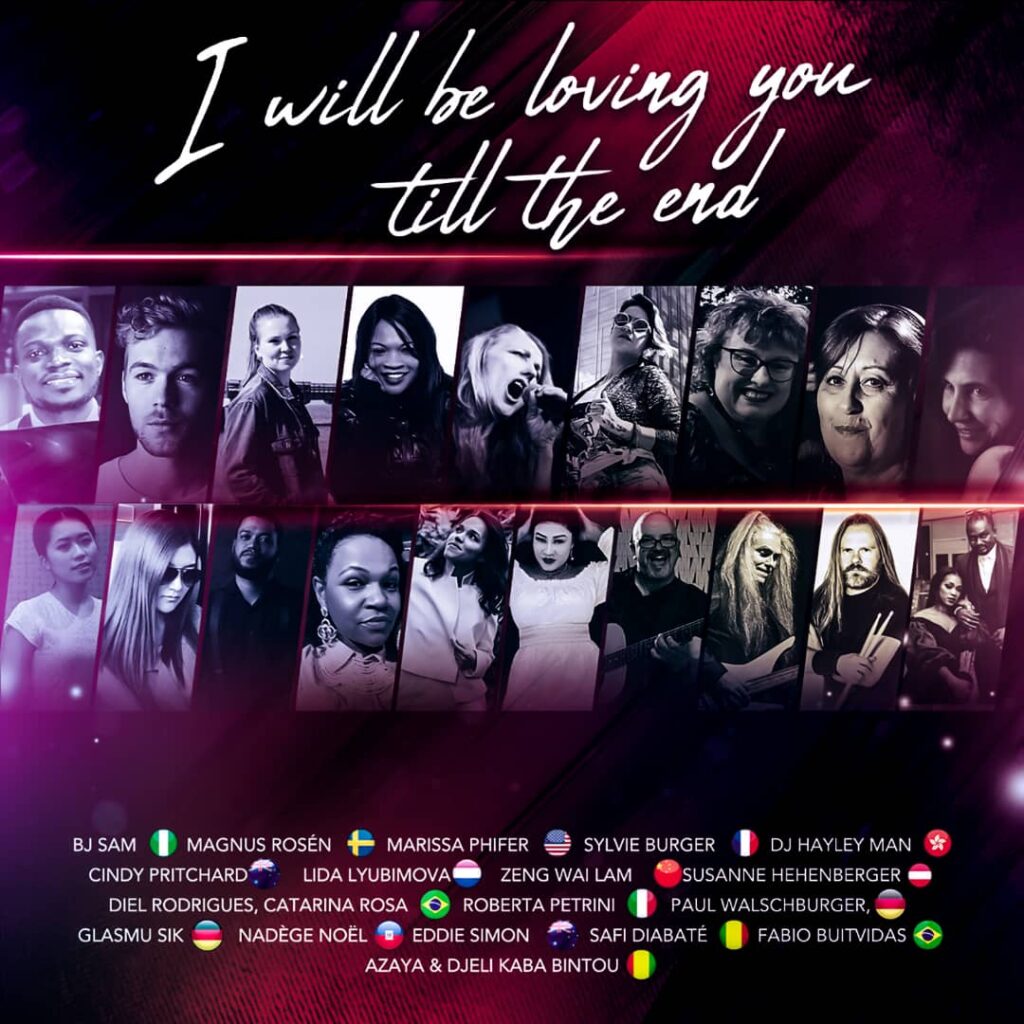 Magnus.
The facebook site:
https://www. facebook. com/MagnusRosenBand
www.culturemeetsindustry. com
www.magnusrosen. com
#magnusrosen #bassplayer #mannebass #manneinstrument #manneguitars #ebs #drstrings #rollsroyce #bentley #you #me #love #peace #understanding #georgekeczan #annyguitar #nigeria #fabiobuitvidas #brazil #safidiabate #mali #edzealandbj #haiti #paulwalschburg #glasmusik #germany #marcelloghio #robertapitrini #italy #dielrodrigues #catarinarosa #susannehehenberg #austria #zengwailam #china #lidaLyubimova #russia #cindypritchard #australia #Azintina #Daywyjn
#azayaDjelykabaBintou #iwillbelovingyoutotheend #music