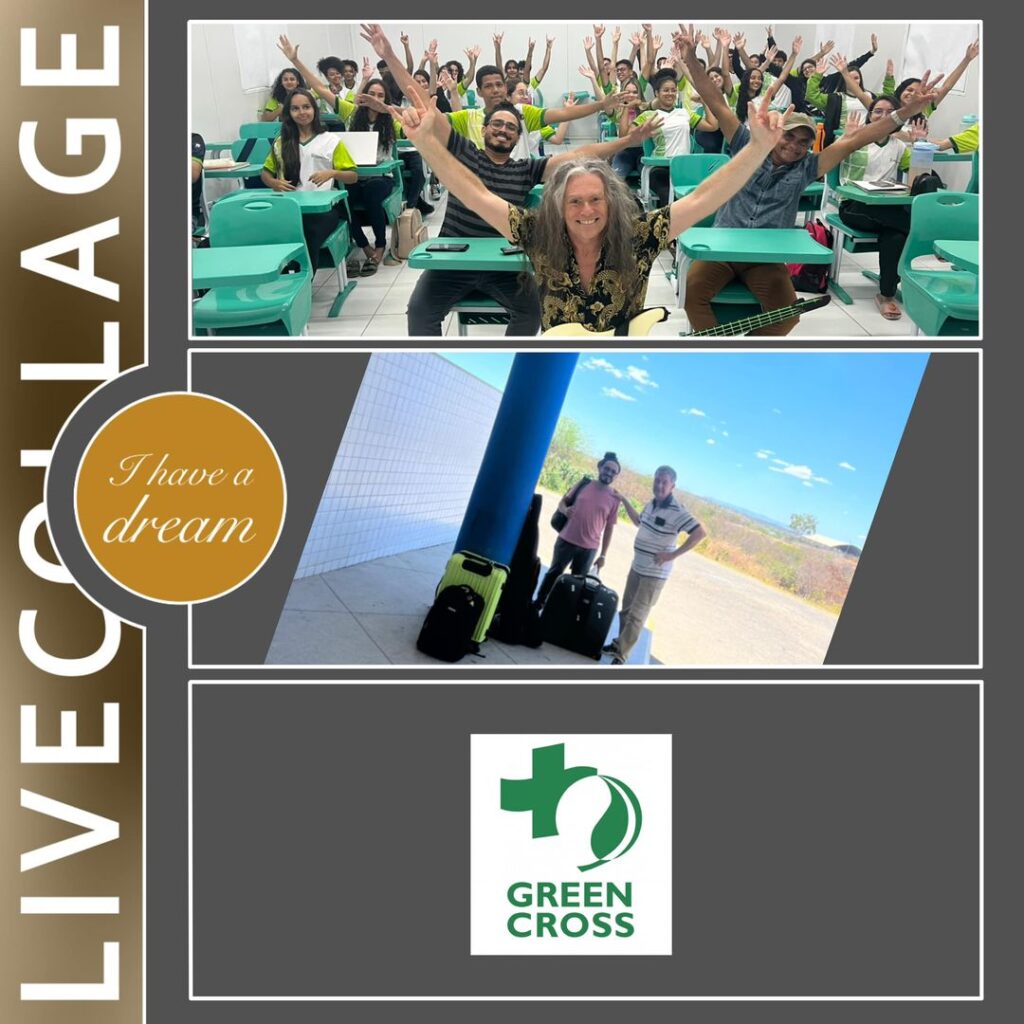 Blog 7
"The Tree Of Life Tour" together with Green Cross blogs for Sweden Rock Magazine.
Breakfast at the hotel started a very eventful day.
Teacher Ivo came and picked us up this morning / forenoon at 10.00.
A very hot day like any other day, but it felt a little extra hot this day. But it worked fine despite a few beads of sweat on my forehead😅.
The temperature is between 35-42 degrees C so far.
This day we went out to their state university
" Institute Federal pernambuco/ Campus Afogados da Ingazeira " which was surprisingly impressive.
A very fresh school with many fine laboratories from 3d printers, chemistry, electronics, high-level computer courses, food handling, psychology support, etc.
The school has 40% solar energy, which is very good.
The students make new discoveries that can be used in the world outside the school. The whole feeling was very lovely and inspiring.
Me and Bengt did both information plus some bass playing for the students in the afternoon and a little more lyre in the evening.
The appreciation and curiosity was very great, I must say.
Between these performances, we also planted some trees symbolically both at the university but also out in the countryside.
Yes, they had most certainly never had this combination of Rocker and Social Entrepreneur.
After the last performance, as the crowning glory, we received an invitation to next year's city festival next year, which we accepted on our feet.
Along the way, opportunities arise and problem solutions, changes and new parts of our program are added.
Ivo has been added on part of the trip and other collaboration partners have dropped out due to various reasons.
This is precisely what makes it an adventure.
You live life to the fullest where security is your own inner compass and good travel companions with a focus on what will be best for our mission.
I'm certainly not better than anyone else for doing stuff like this, but it fits my person like a glove.
With passion, the days are filled so meaningfully at the same time with the music that is my greatest interest, which comes with hanging on my back in a gig bag. The instrument also functions as a megaphone, as I mentioned before, where the spell-binding forces of culture create attention and illumination of our mission.
Bengt, who has been on this adventure for more than 30 years, has all the experience needed to make a difference. Hats off to him and his associates in Brazil 🇧🇷 🎩
The next day!
Now we are at the bus station (lunchtime) the next day waiting for a bus that will take us to Recife, about a 6-hour journey, then it will be a change to a flight of almost 4 hours that will take us to Manaus. This city is located in the middle of the Rainforests northwest from Recife inland and up the country.
We will arrive in the middle of the night around 01:30. So it will be an evening flight.
Brazil is so big and the trips take a long time. But it is also a relaxation as I see it.
There is good air-conditioning in the bus and although it is now no more than 1:47 p.m., I feel a little sleepy.
Bengt and Ivo fiddle a bit with the phone while the other has his eyelids closed, which I will also do now 🥱
I believe human rights is Peace. if you cant find a peace solution then its wrong people round the table!!! Thats what i believe!!!
Make the world a better place 🌍
Love Peace Understanding
Questions give knowledge
Free Speech is given a Free World
Magnus
For those interested in the following, Sweden Rock Magazine's page is:
https://www.facebook.comswedenrockmagazine
Green-Cross www.green-cross.se
Magnus Rosen – Ambassador for Green Cross
www.magnusrosen.com